How many times have you gotten drenched just getting in or out of your car?
Waterproof sails are a great way to handle the wet weather season and unexpected showers.
With a bit of creativity we could have you covered adding value and practicality to your home. There are many colours and styles to choose from. Waterproof sails can be any shape or size you wish, hung on permanent structures, cantilevered or on posts. We can attach the sail to the side of your house or garage. Our very experienced designers can show you many different options to get the coverage you need at the price that is right for you.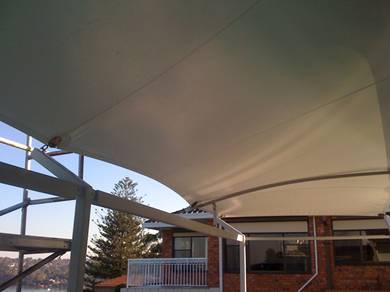 Waterproof sails make great carports that are esthetically pleasing and extremely practical. Unlike the many carports that are commonly seen around rusting and rotting, PVC Shadesails don't rust or rot. The steel posts we use are fully galvanized and powder coated so they will never rust. There are a huge selection of colours for both the sail and the posts which can be colour co-originated to blend with your house and surroundings.
Waterproof sails are ideal for uncovered porch areas, cafés, barbeque areas, carports, school courtyards or playgrounds and so much more. You would be surprised how the right design can actually enhance your environment. Installation wise they are a bit more complex than shade sails as the structures need to be heavier to handle the weight of water and pressure of wind. Our experienced installers use only top quality materials knowing that shortcuts can cause potential disaster further down the road.
Click here to view some of our Carport Shade Sails
Our work is fully guaranteed and we never leave the job until the customer is completely satisfied.
Everyone can benefit from the shelter that a waterproof shade sail provides. Some people even install them to give the family pet protection from the elements.
Call now for a no obligation free quote: 02 8074 3794